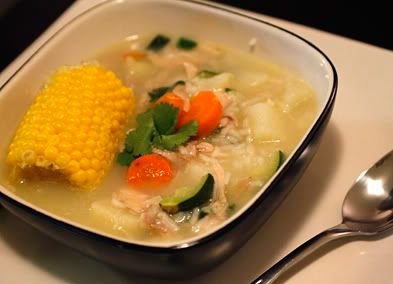 There's nothing like a homemade chicken soup to aid a cold, and that's exactly what I needed with all my sniffling and sneezing these past few days. Without the luxury of a Mom at home, I had to venture out on my own with this one. This particular recipe is
Caldo de Pollo
, a Mexican style chicken soup with an assortment of veggies, chicken, cilantro and a spritz of lime. It's hearty, delicious, and simple to make, even while on cold medicine.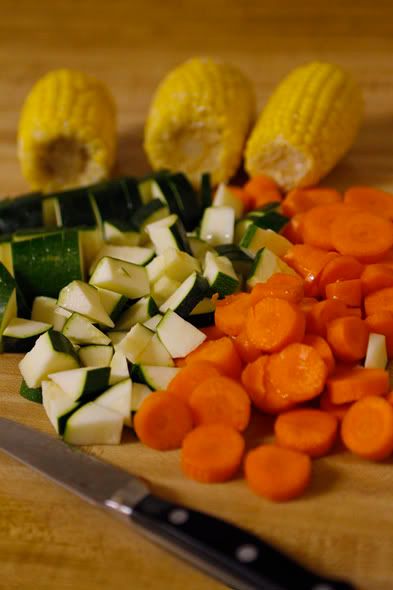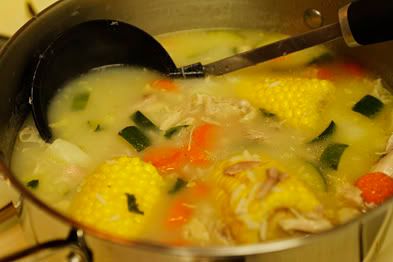 I used a mix of a family recipe and
this
one for the specific
cooking instructions.
*Start off by bringing your chicken to a boil. I used 6 drumsticks. Make sure there is enough water to cover the chicken. Add more, if needed, to keep it covered.
*Add a quartered onion and a couple pieces of garlic to the water.
*When chicken is cooked, remove onion and garlic.
*Add all chopped veggies. Carrots, zucchini, potatoes, and corn. Add any that you love. Cabbage is traditionally used, but I left it out of mine.
* Add 1/4 cup of rice.
* Add Knorr Caldo de Pollo seasoning & salt to taste.
*Bring to boil then simmer for 15 minutes (or until veggies are cooked).
* Add cilantro in the last 5 minutes of cooking.
* Squeeze some lime on top.
* Eat and enjoy!
In other news, congratulations
nfmgirl
! You are the winner of my first giveaway! I'll be emailing you to get your address so we can get the item out to you a.s.a.p! Last but not least, special thanks to
AllModern.com
.