I've fallen off the wagon...the junk food wagon.

It's probably no surprise that I ate a bunch of junk during the theme park adventure Wednesday. It's around every corner, and a girls gotta eat. The place has Dippin' Dots carts every few feet, children with cotton candy frolicking about, the smell of funnel cakes wafting in the air...
Although it was hard, I refrained from all those aforementioned treats. I do have
some
self control. (Jack in the Box on the way and Panda Express for lunch doesn't count, right?) I couldn't leave the park without getting some sweet treat, and caramel apples were in a shop right by the exit. Good marketing Six Flags.
It served as a great dessert that evening, and I thought I would share in my delight.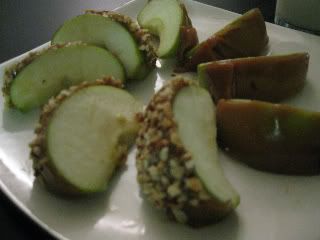 Have a wonderful weekend and be sure to satisfy your sweet tooth. Meet you back here on Monday.